JPdL's Holiday Recipes : Scallops, Pulled-Pork & Rice Pudding!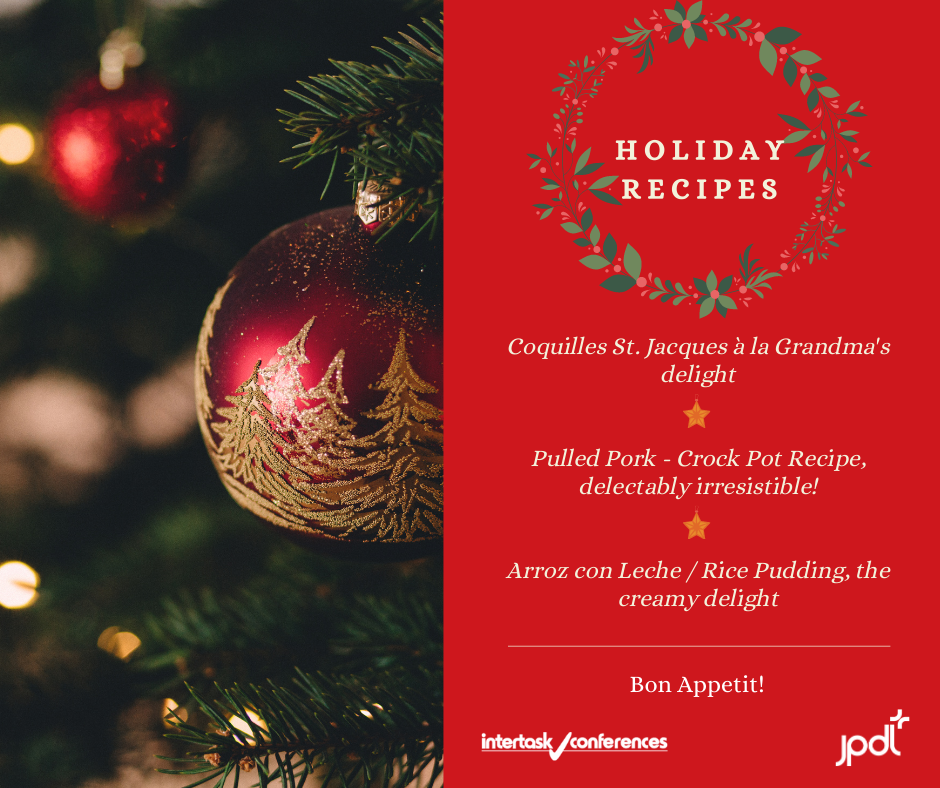 Coquilles St. Jacques à la Grandma's Delight
Recipe presented by: Cynthia Daniele – Accountant, JPdL
I started working at JPdL almost 5 years ago – right when I finished my bachelor degree.  I take care of the accounting for JPdL Montréal, Vitamine and Tremblant!
✨ Wishing everyone a Merry Christmas; sending you all lots of love, happiness and health! ✨
My grandmother and I prepare this recipe every Christmas eve as it is the first dish to be served on the menu!
Preparation/Cooking time: 1 hour 30 min
Ingredients
Court Bouillon
1 small onion, sliced
1 stalk celery, cut up
1 bay leaf
3 slices of lemon
½ cup of dry white wine
1lb of scallops, or any other seafood you desire – we mix scallops, crab and baby shrimp!
Sauce
¼ cup butter
¼ cup finely chopped onion
¼ lb. mushrooms, sliced
¼ cup flour
Dash pepper
1 cup light cream (or milk)
1 cup grated Gruyère cheese
2 tbsp dry white wine
½ cup reserved court bouillon
1 tbsp chopped parsley
Mashed potato
2 lb. white potatoes
¼ cup butter
¼ cup milk
Salt, pepper
1 egg yolk
¼ cup grated parmesan cheese
Instructions
In a medium saucepan combine 1 cup of water, the onion, celery, bay leaf and lemon and bring to boiling; reduce heat; simmer uncovered for 10 minutes. Add ½ cup wine. Add scallops, crab and baby shrimps; gently simmer covered for 6 minutes, or till tender. Drain; reserve liquid.
Make sauce: In medium saucepan sauté chopped onion and sliced mushrooms in ¼ cup hot butter, stirring until tender – about 5 minutes. Remove from heat; stir in flour and pepper to blend well. Gradually stir in cream. Bring to boil, stirring. Reduce heat; simmer, stirring frequently, until quite thick, about 4-5 minutes. Add Gruyère cheese; stir until melted. Remove from heat. Stir in white wine, ½ cup court bouillon and the parsley.
Add the sea food; mix well. Divide into 6 scallop shells or small gratin dishes.
Make mashes potato: Pare potatoes; cut into quarters. Cook in 1 inch salted boiling water, covered, until tender – 20 minutes. Drain very well; return to saucepan; heat slightly over low heat to dry out the potatoes. Beat with mixer at medium speed. Beat potatoes until smooth (no lumps). In saucepan, heat butter and milk until butter melts – don't let milk boil. Gradually beat hot milk mixture into potato until smooth. Beat 1 teaspoon salt, ⅛ teaspoon pepper and the egg yolk until light and fluffy.
Turn into a pastry bag with numbered 6 tip. Pipe a border around the edge of each scallop dish. Sprinkle potato with grated parmesan cheese. Place shells on cookie sheet. Broil until golden-brown and hot, about 2-3 minutes.
Pulled Pork – Crock Pot Recipe, delectably irresistible!
Recipe presented by: Adriana Bonacci – Project Manager, International
I am part of the JPdL International team in Montréal for the last 6 years. I have the privilege to work with a team of great colleagues on International World Congresses as well as National Conferences to ensure that all the clients' objectives are met and more. I work with fabulous clients and colleagues that make working on these projects a real pleasure. Blessed to be working with them all!
✨ Wishing you and your family a Joyous and Safe Holiday! ✨
Great recipe to cook while you decorate your Christmas tree and wrap your gifts.  Supper is ready for the family.
Preparation/Cooking time: 5 min prep time & 8 hours on low or 5 hours on high
Ingredients
3-4 lbs (1.5-2 kg) pork shoulder roast
½ cup brown sugar
2 ½ tbsp kosher salt
4 tsp paprika
2 tsp coarse black pepper
½ tsp cumin
1 tsp powdered mustard (optional)
½ tsp onion powder
½ tsp garlic powder
¼ tsp cayenne pepper
½ cup Coke + ½ cup water
1 cup BBQ sauce (President's Choice Chicken and Rib BBQ sauce)
Coleslaw salad
Mayonnaise to coat salad
Buns – sliced in half and toasted (your preference)
Instructions
Remove any large pieces of fat off the pork shoulder roast.
In a small bowl, stir together the brown sugar, salt, paprika, black pepper, cumin, onion powder, mustard powder, garlic powder, and cayenne pepper.
Rub this spice mixture into the pork, coating on all sides.
Pour the Coke in the slow cooker.
Pour 1 cup of BBQ sauce plus ½ cup of water in the slow cooker.
Place the spiced pork in the slow cooker.
Put the lid on and cook on low for 8 hours.
Remove the meat to a cutting board and shred it with two forks, removing any large pieces of fat. It should shred very easily.
Add about ¼ cup of the cooking liquid to the shredded meat, add more cooking liquid or BBQ sauce until the pulled pork is as saucy as you like.
Serve the pulled pork on toasted dinner rolls with coleslaw.
Leftover: Place the left over liquid from the crock pot in a container separate from any meat. Next day pour some sauce onto meat and heat up in the microwave.
Option: Serve in taco shells with avocado and cilantro/coriander and Habanero or Salsa Verde sauce.
Arroz con Leche/Rice Pudding, the creamy delight
Recipe presented by: Catherine Valle – Registration & Housing Coordinator, International
I have been a Registration Coordinator & Housing Coordinator at JPdL since 2006. I ensure that any registration/housing problem gets resolved in an efficient manner.
✨  ¡Feliz Navidad y que tengan un Prospero Año Nuevo! ✨
Ingredients
6 cups of boiling water
1 can evaporated milk
1 can sweet condensed milk
1 ¼ cups rice
2 cinnamon sticks
Instructions
Place rice, cinnamon sticks and boiling water in a large pot.
Cook until the rice expands and it is soft.
Once the rice has done this, add both milk cans and cook until it starts to boil again.
Reduce heat and cook until the pudding thickens. Let cool down or eat warm.
Option: Add raisins, coconut flakes or any other flavorful ingredient.