JPdL's Holiday Recipes : Marrow Bones, Empanadas & Nanaimo Bars !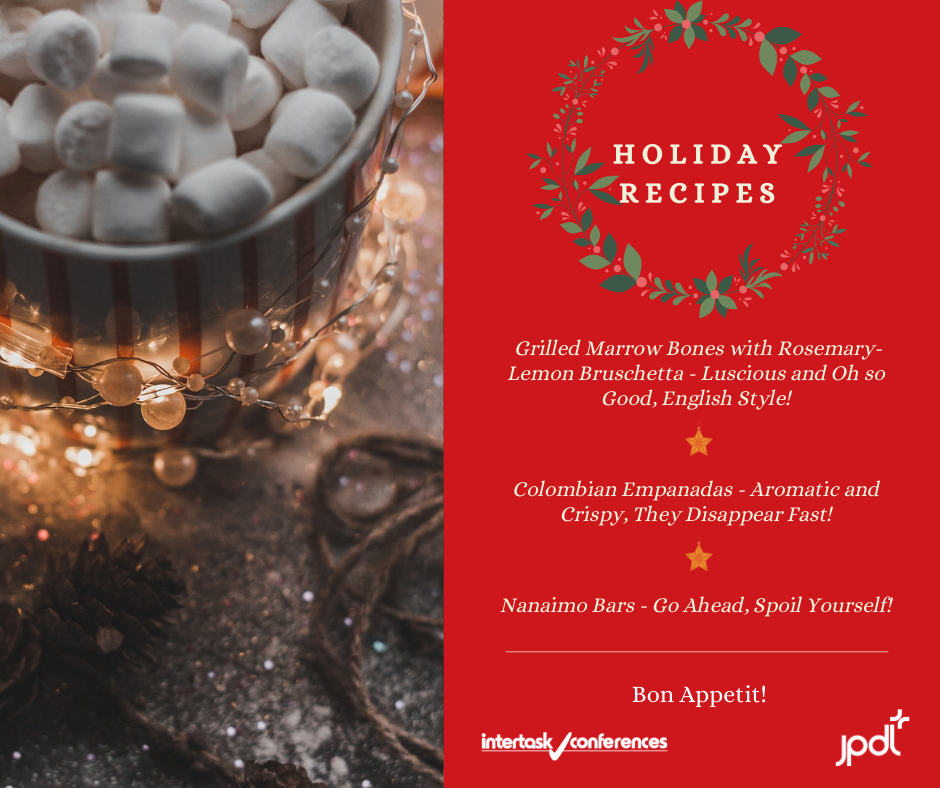 Grilled Marrow Bones with Rosemary-Lemon Bruschetta – Luscious and oh so good, English style!
Recipe presented by : Peggy Nieghorn – Director, Business Development, Intertask
Director of business development at Intertask Conferences for the past 5 years, Peggy works with current and prospective clients to align their needs with Intertask services, and acts as a client advocate to ensure those needs are met.
☃️ Take time to reflect on what makes the holiday season special – and breathe! ☃️
As a kid, my Christmas dinner was prime rib. My Mom, who grew up in England, always made Yorkshire pudding and loved bone marrow on the side. I don't wait for Christmas (or the prime rib and Yorkshire pud 😊) to enjoy this updated version – but it always makes me think of the holidays.
Preparation/Cooking time: overnight refrigeration + 40 min
Ingredients
¼ cup rosemary leaves (+ 2 rosemary sprigs)
¼ cup extra-virgin olive oil (+ more for brushing)
20 2-inch centre-cut beef or veal marrow bones
Salt and freshly ground pepper
10 thick slices country bread
1 small lemon (halved)
Instructions
In a mortar, gently pound the rosemary leaves with the olive oil to flavor the oil. Transfer the oil to a large bowl.
Add the marrow bones and toss to coat. Season the bones with salt and pepper, cover with plastic wrap and refrigerate overnight.
Light a grill. When the coals are hot, rake them to one side.
Wrap the marrow bones in foil in packets of two and arrange them on the grill opposite the coals.
Cover and grill for about 20 minutes, until the marrow is warmed throughout and starting to sizzle.
Carefully remove the bones from the foil and arrange them on a platter.
Brush the bread slices on both sides with olive oil and grill, turning once, until toasted, about 3 minutes.
Rub the grilled bread with the rosemary sprigs and the cut halves of the lemon.
Arrange the bread around the marrow bones and serve. Makes 10 appetizers.
Colombian Empanadas – Aromatic and crispy, they disappear fast!
Recipe presented by : Patrick Jochems – Director of Operations & Business Development, JPdL Tremblant & Esports
I joined JPdL in 2017 as Director of business development in Tremblant. Using my creativity and experience, I wanted to further develop and nourish my relationships within the business community and solidify JPdL's position in the region. Committed to excellence and going beyond, I am proud to have initiated the addition of Esports to JPdL's service repertoire.
☃️ Peace to everyone! ☃️
They're a popular snack in Colombia and in our family. They can be made with pork and beef, but in my family we always make them with ground meat. They're a little high in cholesterol but hey … it's the holidays 😊.
Preparation/Cooking time: approx. 2 hours
Ingredients
Dough
Filling
2 cups peeled and diced white potatoes
1 chicken or vegetable bouillon tablet
1 tbsp olive oil
¼ cup chopped white onions
1 cup chopped tomato
½ tsp salt
¼ cup chopped green onions
1 chopped garlic clove
2 tbsp chopped fresh cilantro
2 tbsp chopped red bell pepper
¼ tsp black pepper
½ pound ground beef
Instructions
Dough:
Place the masarepa in a large bowl.
Add the sazon Goya and salt and stir to mix well.
Add the water and oil and mix to form dough.
Work the dough into a ball for 2 minutes or until smooth.
Cover with plastic and set aside for 20 minutes.
Filling:
Cook the potatoes in a pot with water and the bouillon tablet for 20-25 minutes or until tender. Drain and gently mash the potatoes. Set aside.
Heat olive oil in skillet.
Add the onion and cook over medium-low heat stirring frequently, for 5 minutes.
Add the tomatoes, green onions, garlic, bell pepper, cilantro, salt and black pepper. Cook for about 15 minutes.
Add the ground beef. Cook, breaking up the meat with a wooden spoon, for 10-15 minutes or until the mixture is fairly dry.
Transfer the meat mixture to the mashed potatoes bowl and mix well to combine.
Form the empanada:
Break the dough into sections, about 1 ½ tablespoons each one and form each one into a ball by rolling between the palms of your hands.
Then roll each out very thinly to form a circle (like a mini pizza), and place 1 tablespoon of the filling in the center of each.
Then fold the dough over to enclose the filling, forming a half circle and seal the edges by pressing firmly on them.
Fill a large pot with vegetable oil and heat over medium heat to 360°F.
Place 3 or 4 empanadas at a time in the heated oil and fry for about 2 minutes until golden on all sides.
Serve them with lime wedges and salsa on the side as an entrée. Makes about 20 empanadas.
Nanaimo Bars – Go ahead, spoil yourself!
Recipe presented by : John Kotchan – Registration and Scientific Program Manager, International
In 1988, John joined a small, dynamic team coordinating events in Montréal. The part-time job to help with office work morphed quickly into a full-time professional position as meeting planner, working in registrations, publications, marketing/sales and programs. John currently specializes in the coordination of scientific programs, with a tender eye on meeting publications.
☃️ Peace, love and highest good to all as we embark on a new era of peace and prosperity! ☃️
Named for the city on Vancouver Island in British Columbia, these layered, no-bake squares were always a Christmas favourite in our house. Each layer is easy to prepare – the little bit of extra work comes from construction and chilling!
Preparation time: approx. 1 hour
Ingredients
This recipe is gluten free. Other options are shown.
Base
⅓ cup butter, melted
1 egg
1 tsp vanilla extract
⅓ cup granulated sugar
2 cups almond (or hazelnut) flour*
1 cup unsweetened desiccated coconut
½ cup chopped walnuts
Filling
¼ cup butter, softened
3 tbsp milk
1-2 tbsp custard powder (optional)
2 cups sifted confectioner's (icing) sugar
Glaze
1 tbsp butter
3-4 oz unsweetened chocolate, cut into pieces**
*Non gluten-free option: 1¾ cups of crushed graham wafers
**Some prefer semi-sweet! I like the slightly bitter unsweetened to offset the layers underneath J.
Instructions
Base:
In a large bowl, blend together melted butter, egg and vanilla.
Add cocoa, sugar, almond flour, coconut and walnuts. Stir until combined.
Spread evenly in a lightly greased 9-inch square pan. Chill completely.
Filling:
In a separate bowl, using an electric mixer, cream butter.
Slowly add milk, custard powder (if using) and confectioner's sugar.
Mix until combined. Spread over base and chill.
Glaze:
In a small bowl, microwave butter and chocolate on Medium for 1-2 minutes.
Stir until completely melted and spread over chilled filling.
TIP: A rubber spatula dipped in warm water can help even the spread. Work fast, as the chocolate will solidify quickly!
OPTION: Chocolate can alternatively be drizzled over the filling in lines – make your own pattern!