JPdL's Holiday Recipes : Caldo Verde Soup, Caponata & Pumpkin Cheesecake!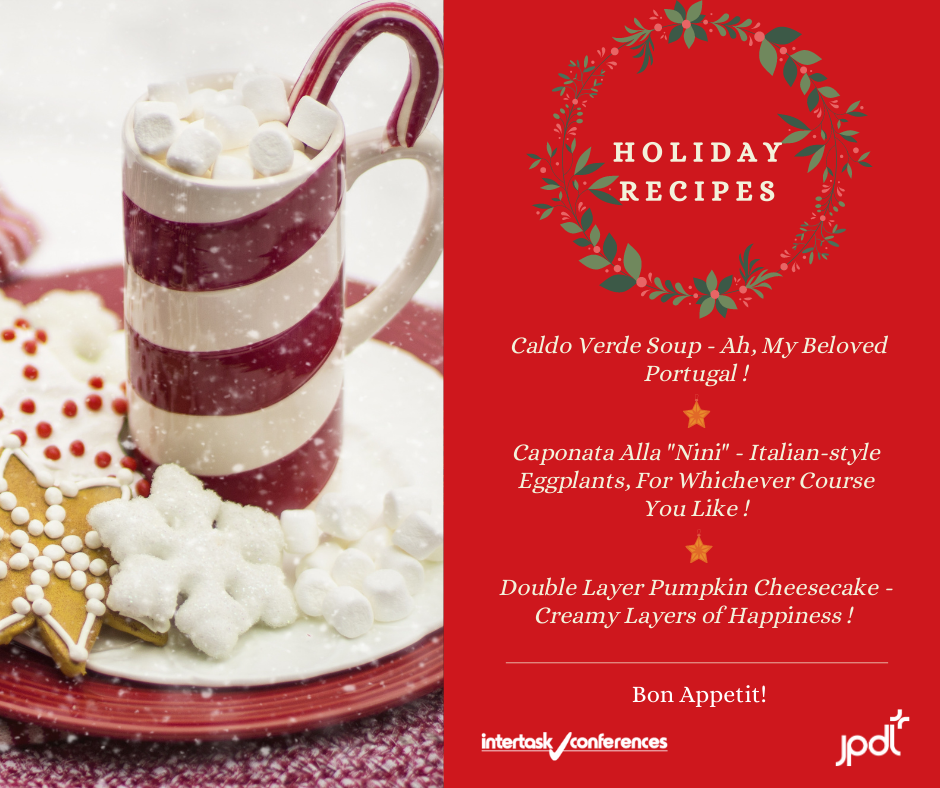 Caldo Verde Soup – Ah, my Beloved Portugal !
Recipe presented by : Colette Lynch – Director, JPdL West
I joined the JPdL team 3 years ago after exploring the world producing conferences along the way. My favourite part in the meeting and events industry is the relationships you build and experiences you provide. The best career advice I have ever received? People want to do business with people they consider friends.
? Wishing you a peaceful and warm Holiday season! ?
I love this recipe as it evokes great memories from my childhood! It is a recipe from my late step-father's cookbook, which he authored. Bonus points: I actually ate this in Portugal three months ago!
Preparation/Cooking time: 45 min
Ingredients
2-3 Portuguese sausages (chouriço or linguica)
5-6 large potatoes, peeled and cut in to chunks
6-7 cups cold salted water (or chicken stock, or a combination)
½ cup olive oil (Portuguese if possible)
5-6 cups finely shredded kale, stems trimmed, well washed
Instructions
Simmer the sausages in water to cover for 10-12 minutes, then slice them and set aside.
In a big pot, bring the potatoes to a boil in the salted water, then simmer with the lid off for 15 minutes or so. Take the potatoes out with a slotted spoon; do not pour out the cooking water!
Mash the potatoes in a bowl and beat in the salt, pepper and oil. (Don't mash the potatoes too fine; a few mini-chunks are nice).
Now stir the mush back into the hot potato water. Bring the soup to a boil again and stir in the kale. Boil 5-7 minutes more (until desired kale crunchiness is achieved). Add the sausage slices and let the soup bubble another 2-3 minutes.
Serve with a crusty bread and lots of butter on the side.
Caponata alla "Nini" – Italian-style Eggplants, for Whichever Course You Like !
Recipe presented by : Marie-Josée Talarico – General Manager, International
For close to 30 years, here in "tion" are what I have been cooking at JPdL: operation, collaboration, exploration, innovation, consultation, creation, negotiation, education, federation, integration, delegation, with a whole lot of affection.
? Gioia, Amore, Salute, Coraggio, Felicità! ?
This delicious dish can be served as an appetizer with crusty bread or as an entrée with pasta or a side dish with chicken or fish.
Preparation/Cooking time: 2 hours
Ingredients
1 eggplant, peeled, cut into ½ inches cubes
Salt and pepper
Olive oil
1 ½ cups finely chopped celery
½ cup finely chopped onions
1 tbsp of red wine vinegar mixed with 2 tsp of sugar
2 cups drained canned Italian plum tomatoes (or fresh) cut in small pieces
2 tbsp capers, rinsed well in cold water
6 large olives (either green or black), finely sliced
A few basil leaves
2 tbsp of pine nuts (ideally grilled)
1 tsp of tomato paste (optional)
4 small anchovy fillets (optional)
Instructions
Generously sprinkle the eggplant cubes with salt and set them in a colander. Let them drain.  After about 30-40 minutes, pat the cubes dry with paper towels and make sure to remove the salt.
In a skillet, heat a little olive oil.  Add the celery and cook over moderate heat, stirring frequently for 10 minutes and then add onions and cook both until lightly colored.
Remove celery and onions with a slotted spoon and place them in a bowl.
Pour more olive oil into the skillet and sauté the eggplants over higher heat than for the celery and onions, for about 8-10 minutes.
Return celery and onions to the skillet, stir in the vinegar mixed with sugar, drained tomatoes, olives and capers, salt and pepper to taste (if you are using – add tomato paste and anchovy).
Bring to a boil and reduce heat and simmer uncovered for about 15 minutes.
Serve on pasta or as a side dish.
Buon appetito!
Double Layer Pumpkin Cheesecake – Creamy Layers of Happiness!
Recipe presented by : Michelle Piromalli – General Manager, Operations, JPdL Toronto & West
Michelle joined the JPdL family in 2006 and hasn't looked back. Over the years she has worked with hundreds of clients planning and executing exciting, impactful and flawless events. She is known for her fanatical attention to detail and commitment to exceeding expectations.
?Wishing everyone a holiday season filled with hope and joy! ?
Preparation/Cooking time: 30 min prep time & 40 min cooking time & 3 hours chill time
Ingredients
2 packages cream cheese, softened
½ cup white sugar
½ tsp vanilla extract
2 eggs
1 prepared Graham crust
½ cup pumpkin puree
½ teaspoon ground cinnamon
1 pinch ground cloves
1 pinch ground nutmeg
Whipped cream for topping
Instructions
Preheat oven to 325°F.
In a large bowl, combine cream cheese, sugar and vanilla. Beat until smooth.
Blend in eggs one at a time.
Remove 1 cup of batter and spread into bottom of crust; set aside.
Add pumpkin, cinnamon, cloves and nutmeg to the remaining batter and stir gently until well blended. Carefully spread over the batter in the crust.
Bake in preheated oven for 35-40 minutes, or until center is almost set.
Allow to cool, then refrigerate for 3 hours or overnight.
Cover with whipped cream before serving.