JPdL's Holiday Recipes: Guacamole, Tourtieres & Biscotti!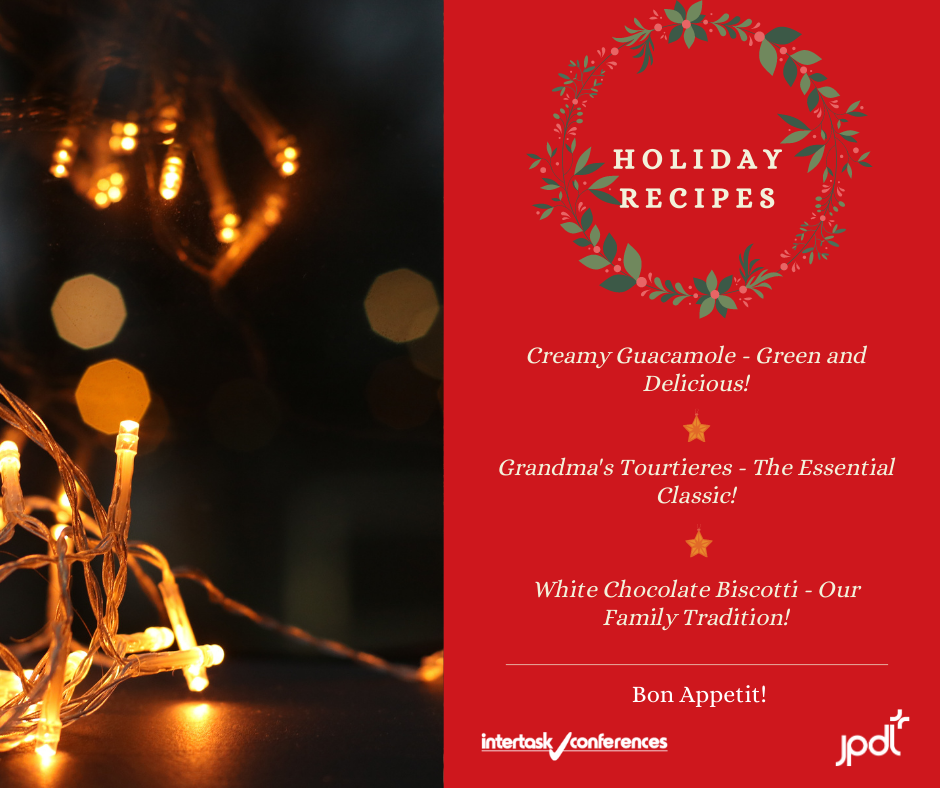 Creamy Guacamole – Green and Delicious!
Recipe presented by : Eugenia (Kena) Siu – Registration Manager
Registration Manager at JPdL, Kena joined the company this past February. Kena studied Business Administration in Tourism. She has worked on customer service and congresses for over 15 years and had the opportunity to work in different countries and traveled the world. Half of this time her job has been in the realm of registration.
❄️ I wish you and your family abundance in every aspect of your life: health, relationships, love, presence, joy, work, peace, food, finances, etc. And prioritize what it is really important for you and go for it. Life is beautiful and simpler that we think! ❄️
Preparation/Cooking time: 15 min
Ingredients
2 medium avocados or 3 small
1 small tomato
¼ small onion
Cilantro to taste
½ lime or lemon
50 gr feta cheese
Salt and pepper to taste
Jalapeño or chilli flakes if you like spicy
Instructions
Cut the avocados in half and remove the pits. Set them in a bowl.
Smash the avocados with a fork.
Chop the tomato, onion and cilantro in small pieces. Add them to the avocado bowl.
Smash the feta cheese with a fork. Add to avocado bowl.
Add salt, pepper and lime juice to taste. Add the chilies if you wanted to make it spicy.
Mix well and ready to eat, especially with totopos (known as nachos).
Grandma's Tourtieres – the Essential Classic!
Recipe presented by : Jeffrey Gibbons – Scientific Program Assistant Coordinator, International
After a few years working on events on-site, Jeffrey joined the JPdL team in January 2020 to combine his field experience with his office experience. He is currently the Scientific Program Assistant Coordinator.
❄️ I wish you a holiday season filled with joy with your loved ones, both virtually and in person! ❄️
One of the most anticipated elements of the holiday season in our family, they are prepared religiously each year by our matriarch. To be served with fruit ketchup, gravy or simply as is.
Preparation/Cooking time: 2 hours 30 min
Ingredients
(About 3 or 4 pies)
1 lb ground pork
1 lb ground veal
1 lb ground beef
1 ½ cups boiling water
2 small cloves garlic
3 small onions finely chopped
¼ tsp ground cinnamon
¼ tsp sage
½ tsp ground cloves
Salt and pepper
6-8 shortcrust pastry, purchased or, for the brave ones out there, homemade
Instructions
In a saucepan, saute the meat with the garlic and onion.
Add water and spices.
Cover and cook gently, about 1 hour. Stir frequently.
Adjust spices to taste.
Cool meat completely. Remove any excess fat that may have set on top.
Spoon the cold meat mixture between 2 shortcrust pastry sheets, placed in a pie dish.
Seal the dough all around.
Make small incisions on the top. (Feeling creative? Go ahead and place shaped dough pieces on top like Christmas trees, snow flakes, etc.)
Brush the entire surface with an egg yolk beaten in ½ cup of milk.
Bake at 375°F for about 45 minutes or until the crust is golden brown.
White Chocolate Biscotti – our Family Tradition!
Recipe presented by : Julie Anastasopoulos – Accountant, JPdL
Controller, back once again with the remarkable JPdL team after having taken some time away (10 years!) to pursue other adventures, including raising my monkeys!
❄️ Warm wishes and virtual hugs to all! ❄️
Two Christmas recipes have been part of your family for 30 years. One of them is a famous Italian cookie which is simply delicious at any time of the year, but in our home, it has become a traditional Christmas cookie!
Preparation/Cooking time: 20 min prep time & 50 min baking time
Ingredients
½ cup butter
1 ½ cups sugar
2 eggs
3 Bakers white chocolate squares, melted and cooled (one box contains 6 squares)
3 Bakers white chocolate squares, chopped
2 ¾ cups of all-purpose flour
2 ½ tsp baking powder
1 tsp salt
¼ cup orange juice
1 tsp almond extract
¾ cup of coarsely chopped toasted whole almonds
Instructions
Heat oven to 350°F.
Grease and flour two cookie sheets.
Beat butter with sugar and eggs. Beat in melted chocolate.
ADD remaining ingredients, beating until well blended (dough will be sticky).
SPOON half of the dough onto each cookie sheet, shaping each into a long log, about 2" wide.
BAKE for 30 minutes or until golden. Cool 10 minutes.
Cut logs into ¾" wide slices.
Return cookies to cookie sheets, bake 20 minutes longer turning cookies over once during baking. Cool completely. Store in airtight container.