JPdL's Holiday Recipes: Squash Velouté, Oysters & Cheesecake!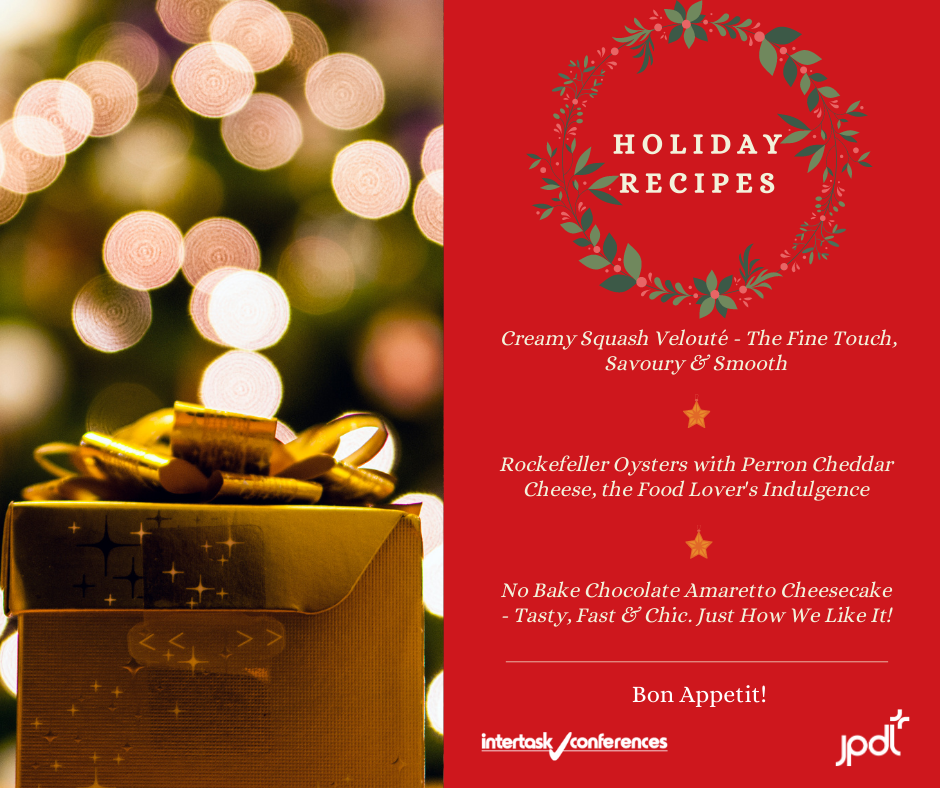 Creamy Squash Velouté – The Fine Touch, Savoury & Smooth
Recipe presented by : Isabelle Desloges – General Manager, JPdL Québec
Why settle for good when you can have positively great? Words to live by for Isabelle! Driven to meet her clients' highest expectations, Isabelle and her top-flight team bring excellence to every project they undertake.  Passionate in all aspects of her life, Isabelle flavours her world with fine foods, vibrant colours and an infectious enthusiasm that brings energy to any room. A committed professional who is devoted to her JPdL family since 2009, Isabelle balances personal and professional life with ease as she navigates her busy days with warmth and good humour.
? Wishing you and your family a Joyous and Safe Holiday! ?
Preparation/Cooking time: 45 min
Ingredients
1 large Butternut squash
Olive oil
1 medium chopped onion
1 can coconut milk
1 clove of garlic, minced
1 tbsp freshly grated ginger
Approx. 2 cups broth (vegetable or chicken)
1 tsp smoked paprika
Salt
Instructions
Cut the squash in 2 length-wise and remove seeds.
Drizzle some olive oil on both halves and sprinkle with salt.
Place halves down on parchment paper on large baking sheet.
Roast in oven at 425°F for 40 minutes or until the squash is tender and inside flesh starts to caramelize.
In the meantime, sauté onion in large saucepan with some olive oil.
Add garlic and ginger. Cook for 5 minutes.
Add the roasted squash (without the skin J), the broth and the coconut milk.
Bring to soft simmer and add the smoked paprika.
Using stick hand blender (or regular blender) to process until smooth and creamy.
Adjust quantity of broth to get desired consistency.
I like to use individual Mason jars so this is easy to bring wherever we are having Holiday reunions with family and friends. I simply place the jars in the oven to reheat with whatever else is cooking and sprinkle a little pinch of paprika before serving.
Rockefeller Oysters with Perron Cheddar Cheese, the Food Lover's Indulgence
Recipe presented by : Nathalie-Jeanne Loiseau – Project Manager, Internationale
Project manager at JPdL for 1 year organizing international congresses as well as national conferences. Epicurean and music lover, for my family and me the holiday season also means a feast of seafood and other shellfish!  We usually always have a lobster feast, but our MUST is oysters! We are truly fanatics and not just for the months that end in ber! Treat yourself and above all, buy local products as much as possible!
? Happy Holidays to all ! ?
Preparation/Cooking time: 20 min & 40 min
Ingredients
½ cup Chardonnay wine
24 Olympia oysters from California or Sinku oysters from British Colombia or other variety
2 cups coarse or sea salt
Stuffing
¼ cup French shallots, finely chopped
3 slices of bacon
2 cups spinach
1 tsp semi-salted butter
Freshly ground pepper
Sauce
½ cup oyster juice
2 oz Perron medium cheddar cheese
3 tbsp French shallots
1 cup Chardonnay wine
1 cup 35% cooking cream
1 tsp semi-salted butter
Freshly ground pepper
Instructions
Stuffing:
Slice the bacon as thinly as possible and cut into small cubes.
Fry in a pre-heated frying pan. When the bacon begins to brown, add the shallots and saute in the bacon fat.
Clean the spinach, remove the stalks and cook for 2-3 minutes.
Chop leaves and fry with the bacon and shallot in butter.
Season with pepper, but avoid adding salt because of the bacon.
Oysters:
Clean the oysters with a small brush under cold water and open them. Never soak them in water. Pour the juice into a container and set aside.
Keep the lower, deeper shell and loosen the oysters with a knife and set them aside on a plate.
On a baking sheet, pour rows of coarse salt or sea salt to keep the oysters in balance.
Put a small portion of the stuffing in each shell and place a shelled oyster on top.
Sauce:
Reduce the oyster juice and remove any impurities with a sieve.
In a saucepan, brown the shallot in butter.
Add the oyster juice and the white wine. Let reduce by half, then add the cream and reduce again until it thickens.
Add pepper and remove from the heat.
Add cheddar cheese and stir well. Let cool and pour a tablespoon over each oyster.
Preheat oven to 500°F. Place the baking sheet on the top shelf and brown lightly the oysters.
Serve on rows of sea salt.
No Bake Chocolate Amaretto Cheesecake – Tasty, Fast & Chic. Just How We Like It!
Recipe presented by : Liz MacMaster – Project Manager, Intertask
I have been with Intertask since 2015 and I am involved in many aspects of conferences including registration, speaker management and worked with volunteer association committees to support the development and implementation of workshops, courses, webinars and annual meetings.
? Happy Holidays! ?
Preparation/Cooking time: 25 min (plus 3 hours chill time)
Ingredients
7 squares semi-sweet chocolate
2 tbsp butter
32 chocolate rolled waffle cookies (E.g. Bahlsen cookies)
2 packages cream cheese, softened
¼ cup firmly packed brown sugar
1 envelope unflavoured gelatin
½ cup almond liqueur
1 cup whipping cream
Whole unblanched almonds (about 20 or so, for garnish)
Instructions
Cookie Ring: Place cookies in ring in 8½ inch springform pan.
Cheese Cake:
Beat softened cream cheese until smooth; blend in brown sugar.
Sprinkle unflavoured gelatin over almond liqueur. Let stand 5 minutes.
Stir over low heat until gelatin dissolves.
Blend warm gelatin into cheese mixture.
Beat whipping cream; fold into cheese mixture. Set aside 1 cup of this mixture.
Melt 6 chocolate squares; cool.
Fold into remaining cheese mixture.
Spread all but ½ cup chocolate mixture into prepared pan; spread plain mixture evenly on top.
Top with remaining chocolate mixture; swirl with knife to marble.
Chill at least 3 hours.
Garnish:
Partially melt 1 chocolate square.
Dip almonds into chocolate.
Place on top of cookies.
Chill.