JPdL's Holiday Recipes : Bolivian Cheese Balls, Chunky Corn and Chicken Chowder & Cream Puffs !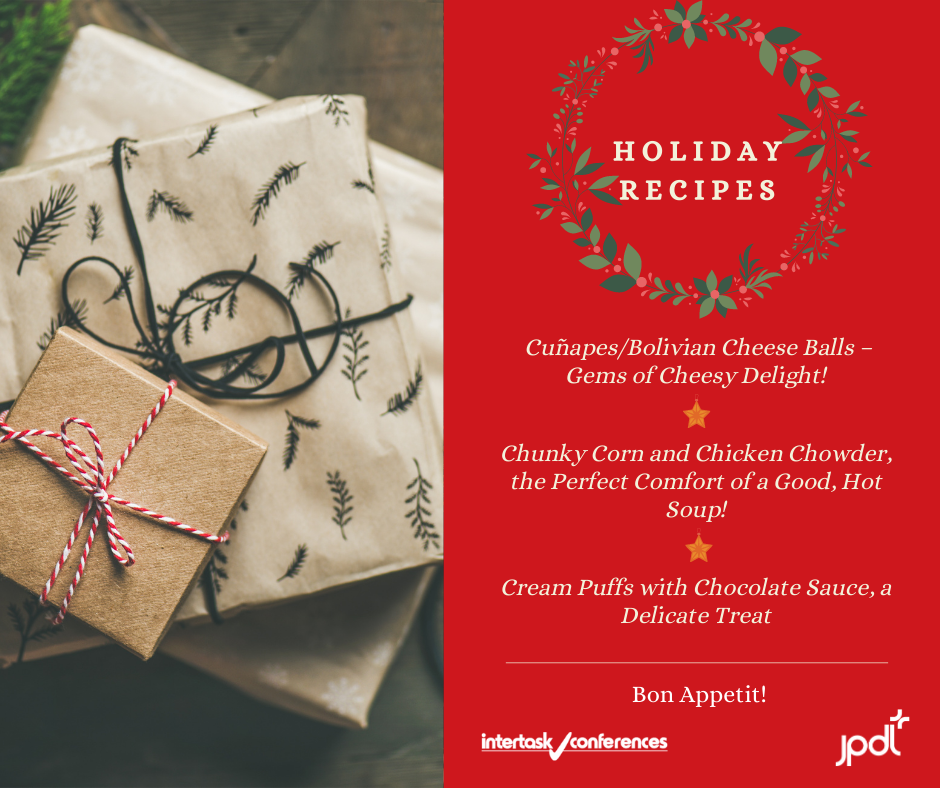 Cuñapes/Bolivian Cheese Balls – Gems of Cheesy Delight!
Recipe presented by : Catherine Valle – Registration & Housing Coordinator, International
I have been a Registration Coordinator & Housing Coordinator at JPdL since 2006. I ensure that any registration/housing problem gets resolved in an efficient manner.
? ¡Feliz Navidad y que tengan un Prospero Año Nuevo! ?
Preparation/Cooking time: 1 hour
Ingredients
2 cups "yucca" flour or any starch flour
4 cups feta or fresh cheese (grated)
3 eggs
1 tbsp butter
½ tbsp sugar
2 tsp baking powder
Instructions
In a bowl, mix starch flour with baking powder and cheese. In a separate bowl mix sugar, butter and eggs.
Knead both together to make a soft dough.
Divide the dough and make small balls by rolling them in your hands.  Put a hole at the bottom of each ball and place down on nonstick cookie sheet.
Bake in pre-heated oven at 350°F for 20-30 minutes, or until they start getting golden.
Chunky Corn and Chicken Chowder, the Perfect Comfort of a Good, Hot Soup!
Recipe presented by : Johanne Gravel – Accountant/HR/Admin, JPdL
At JPdL for almost 30 years now! My motto: Been there, done that. Started as a brunette, now silver – perfect for a money lady! My nickname says it all … many call me Mamajo.
? A little piece of happiness every day will lead to a big PEACE in our lives! ?
A delicious meal in a bowl for a cozy winter evening!
Preparation/Cooking time: approx. 35-40 min
Ingredients
6 slices of bacon, cut into small pieces
1 onion, chopped
3 tablespoons flour
3 cups chicken broth
4 potatoes, cut into bite-size cubes
2 cups cooked chicken, cut into bite size cubes
2 cups milk
10 oz frozen kernel corn
Instructions
In a pot, first cook the bacon until crisp. Remove and reserve for later.
In the same pot, cook the onions until tender.
Stir in flour, then add chicken broth and potatoes, then salt and pepper to your liking, stirring occasionally, and continue cooking until potatoes are tender, about 15-20 minutes.
Add chicken, corn and milk, continue cooking and stirring until heated through.
Top each serving with the bacon bits.
Bon appetit!
Cream Puffs with Chocolate Sauce, a Delicate Treat
Recipe presented by : Josée Dallaire – Exhibit & Partnership Coordinator, International
I started working at JPdL as a contractor in 2001 and became permanent staff in 2016. Throughout my professional career I have always came back to JPdL because it's like a second family to me. Employees work as a team and all have the same goal of giving the best of themselves at all times, no matter the project!
? Happy Holidays and take good care of yourself and your loved ones! And a 2021 Year of peace and resilience! ?
Preparation/Cooking time: 30 min prep time & 55 min cooking time
Ingredients
Chocolate Sauce
¼ cup water
1 cup corn syrup
⅔ cup cocoa powder
Pinch of salt
2 tbsp butter
1 tsp vanilla
Cream Puffs (with or without gluten)
½ cup water
¼ cup vegetable fat (I prefer to use butter)
½ cup flour (all purpose or gluten free)
2 eggs
Instructions
Chocolate sauce:
Combine the corn syrup, cocoa powder and salt and bring to a boil over low heat, stirring often. Keep boiling for 2 minutes.
Remove from the heat then add the butter and vanilla. Stir and let cool.
Keeps well in the refrigerator. Before serving, just heat the desired quantity in the microwave and drizzle over the cream puffs.
Cream puffs:
Bring the water and fat (or butter) to a boil. Add flour all at once. Stir constantly until dough forms a ball.
Remove from the stove, let cool then add the eggs one at a time.
Mix well after each egg (with a wood spoon or mixer).
Continue to combine the ingredients until the mixture is smooth and velvety.
With a spoon, form 6 balls of dough (I do 9) place each ball 3 inches apart on a greased cookie sheet.
Bake for 15 minutes in pre-heated oven at 450°F.
Reduce heat to 350°F and bake for another 30-40 minutes.
Let cool on a rack. Split each puff in half, fill with whipped or pastry cream.
Drizzle hot chocolate sauce over the puffs and enjoy!