JPdL's Holiday Recipes : Shrimp Mousse, Meatballs & Gingerbread Men !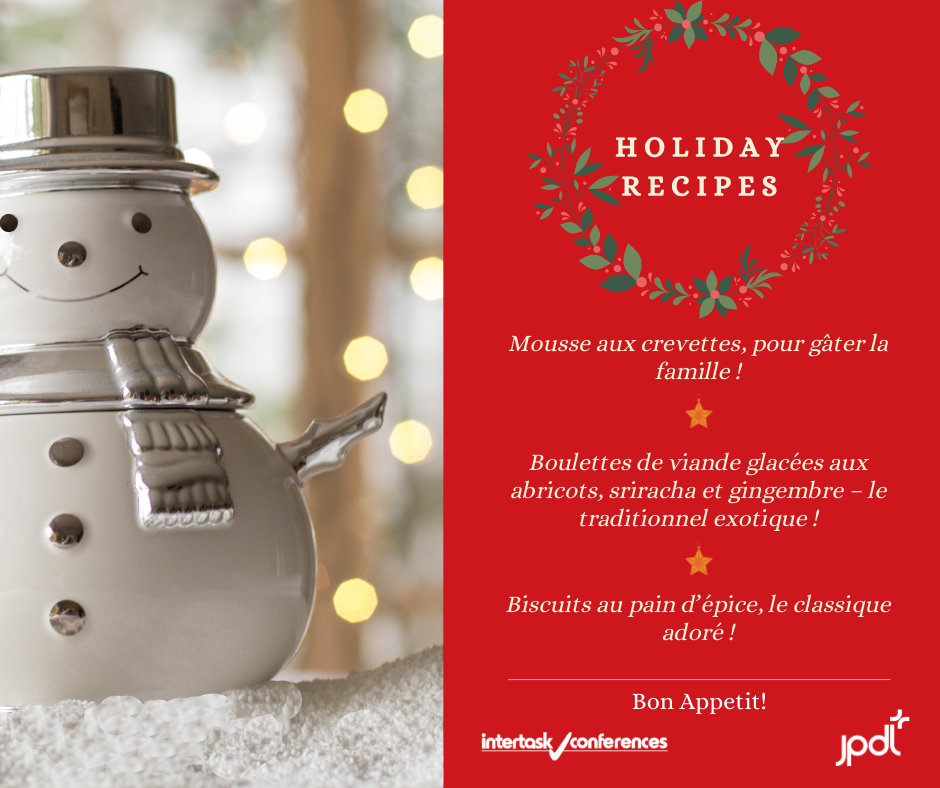 Shrimp Mousse, to Treat Your Family!
Recipe presented by : Josal Kadri – Project Manager, JPdL Québec
This wonderful adventure between Josal and JPdL has been going on for many years. At first as receptionist and Jean-Paul's assistant in Montréal, then in Québec City as an on-site staff to finally becoming a project manager, which literally means being versatile in everything J. The hospitality industry chose me, but I choose to stay in it because my passion hasn't faded and I love what I do!
⭐ I wish you and your loved ones a holiday season filled with joy, happiness and good health! ⭐
My family loves this recipe. It has become one of our classics for any occasion.
Preparation/Cooking time: 30 min & chill time
Ingredients
1 package cream cheese
1 can condensed cream of tomato soup
1 cup mayonnaise
2 envelopes unflavoured gelatin
½ cup boiling water
4 cans shrimps, drained and chopped
1 onion, finely chopped
1 celery, finely chopped
1 carrot, grated
1 yellow bell pepper (or other color), finely chopped
You can add or change any of the vegetables to your liking, this recipe will be delicious no matter what you decide!
Instructions
In a large bowl, melt the cheese and cream of tomato in the microwave oven.
Sprinkle the gelatin in boiling water, stir to dissolve and incorporate to the cheese and tomato mixture.
Add the other ingredients and mix well.
Pour into a well-greased mold and refrigerate (a few hours or ideally overnight).
Serve with crackers and crusty French baguette.
Apricot, Sriracha & Ginger-Glazed Meatballs, the Exotic Traditional!
Recipe presented by : Leeanne Akehurst – Director, Delegate Services & Information Technology, Intertask
Leeanne works with clients to manage face to face and virtual meetings. Her attention to detail, customer service and project management experience are greatly appreciated by our clients.
⭐ From my kitchen to yours, wishing you a happy and healthy holiday season! ⭐
This recipe is from my new favourite cookbook: Yum & Yummer: Ridiculously Tasty Recipes That'll Blow Your Mind, But Not Your Diet! by Greta Podleski.
Preparation/Cooking time: 30 min prep time & 18 min cooking time
Ingredients
Meatballs
1 ½ lbs lean ground chicken
½ cup dry unseasoned bread crumbs
¼ cup finely minced green onions
2 tbsp hoisin sauce
1 egg
2 tsp minced garlic
1 tsp grated fresh gingerroot
1 tsp dark sesame oil
½ tsp each sea salt and freshly ground black pepper
Glaze
1 cup no-sugar-added apricot jam*
¼ cup reduced-sodium soy sauce
1 tbsp freshly squeezed lime juice
1 tbsp Sriracha hot sauce
2 tsp minced garlic
2 tsp grated fresh gingerroot
½ tsp dark sesame oil
Finely chopped green onions and toasted sesame seeds for garnish (optional)
*I've also used marmalade and they are still great.
Instructions
Preheat oven to 400°F.
Meatballs:
In a large bowl, combine ground chicken, bread crumbs, onions, hoisin sauce, egg, garlic, gingerroot, sesame oil, salt and pepper (using your hands works best).
Form mixture into bite-sized meatballs, about 1 ½ inches in diameter.  Wetting your hands helps prevent the chicken mixture from sticking to them (ground chicken and turkey are kinda sticky!).
Place meatballs on a non-stick baking sheet.
Bake in preheated oven for 15-18 minutes or until cooked through.
Stir meatballs once, halfway through cooking time, to brown sides.
Sauce:
While meatballs are cooking, prepare glaze. In a 10-inch, deep, non-stick skillet, whisk together jam, soy sauce, lime juice, Sriracha sauce, garlic, gingerroot, and sesame oil.
Cook over medium-high heat until mixture is hot and bubbly and jam has melted.
Add cooked meatballs and mix gently, ensuring every meatball is coated with sauce.
Garnish with green onions and sesame seeds, if using.
Serve hot, paired with oriental salad, pasta or rice and green beans or broccoli.
You should end up with about 40 meatballs.
Gingerbread Men, the Beloved Classic!
Recipe presented by : Véronique Kerjean – General Manager, JPdL Vitamine
Arriving from Ireland 22 years ago, I immediately fell into the JPdL magic Events potion pot.  It gave me the curiosity, the intimate understanding and opportunity to experience all aspects of the company – from Incentives to Conferences and Events.  I am now the woman behind Vitamine, the off-the-beaten-track division of JPdL. Vitamine designs unique, illuminating landmark moments that will motivate, federate and inspire Canadian and European groups.
⭐ Wishing you lots of love, joy and happiness! ⭐
Well, might as well tell you right away: I adoooooooooooooore the Holidays!!! Because it's magical, bright, joyous, colorful and festive!!  Over the years, a multitude of little rituals have taken root in our home and now mark out the month of December: Advent calendar, school shows, Christmas tree decoration, holiday show, New Year's Eve menu … not to mention preparing Christmas cookies!!
Preparation/Cooking time: 30 min
Ingredients
2 ¾ cups all-purpose flour
1 ½ tsp baking powder
¼ tsp baking soda
1 tbsp ground cinnamon
1 tsp ground ginger
1 tsp ground cloves
½ tsp salt
1 cup brown sugar
⅔ cup dark molasses
½ cup butter, room temperature
1 large beaten egg
¼ tsp ground allspice
Instructions
Preheat the oven to 375°F. Line a cookie sheet with parchment paper.
Mix together flour, baking powder, baking soda, cinnamon, cloves, ginger and salt into a medium bowl. Set aside.
In another bowl, combine brown sugar, molasses, butter, beaten egg and allspices; mix all together well.
Stir the dry ingredients into the creamy mixture and knead until all the flour has been worked in.
Roll out dough to ⅓ inch thick on a lightly floured surface. Using a 4-inch cookie cutter, cut dough and place on cookie sheet.
Bake for 8-12 minutes or until the outline of the cookies is lightly browned. Allow cookies to cool for 2 minutes, then remove from pan and let cool completely on rack.
And decorate!!!!