Virtual Events: Six Questions to Ask Yourself to Ensure Success!
In the past few months, we all have been forced to adapt to virtual environments, whether due to working remotely or, more specifically for the events industry, due to the increased demand for virtual events. We know it can be challenging to navigate the technological vocabulary or to have a clear vision of what your virtual event should look like. We are here to help.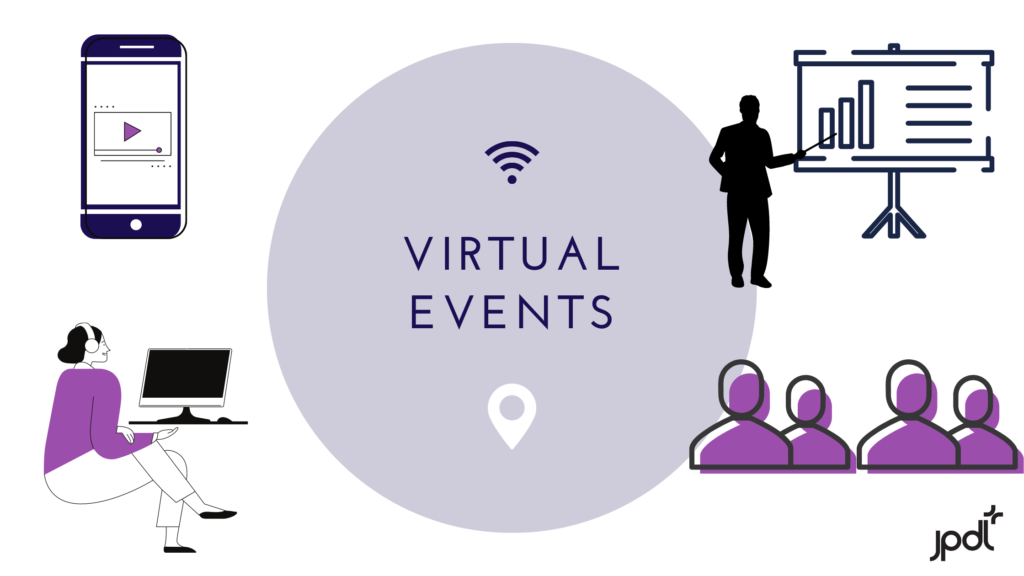 What is a virtual event?
A virtual event is an online event accessible in whole or in part over the Internet for a limited period of time. This type of event is carried out using a virtual platform allowing the content to be webcast.
Webcasting allows the broadcast of audiovisual content either Live or On-Demand over the Internet. There are several virtual event formulas, ranging from a single session webinar to interactive virtual conferences with multiple concurrent sessions, virtual trade shows, and networking opportunities.
Virtual events can, therefore, take many forms, be it 100% virtual or a hybrid event, simultaneously combining a physical event with one or more virtual components.
Hybrid events should not, however, be viewed simply as a virtual replica of the physical event. The objective is to create two unique experiences in order to maximize the engagement of your community.
Six questions to ask yourself to ensure a successful virtual event!
What are your goals?
The first step in any event planning is, of course, your goals. What do you want to accomplish through your virtual event: Is it knowledge sharing? The launch of a new product? Consolidating your community? Networking? Your answers will guide you in choosing the most appropriate format and technological tools to use.
What is your budget?
The myth that a virtual event is less expensive than its face-to-face counterpart is indeed just that: a myth. Even though certain expenses may no longer be necessary, such as the venue rental or catering, the cost of a virtual event can prove to be substantial when taking into account all its different components (production, technology, marketing & communication, etc.)
How will you create added value for your audience?
The challenge with virtual events is to design them in such a way that your audience chooses to stay present. To do this, not only do you need to account for time zones and access to a reliable Internet connection, you must include networking opportunities, as well as virtual activities, to promote a cohesive experience for the participants and foster engagement.
What resources do you need?
Besides the need for virtual event platforms and audio-visual equipment, what do you need to successfully manage your virtual event? How will you adapt and set up registration management on your new platform? What is the difference in cost for your virtual participants versus in-person? How will you manage and monetize sponsorships and your virtual showroom?
How do you choose the most appropriate platform?
Based on your goals, budget, target audience, and the level of engagement you wish to achieve, the next step is to create a detailed RFI (Request for Information). Remember to take into account your long-term vision for the virtual event. Do you plan to make it a permanent feature of your future events? If so, analyze which options would best suit your situation between purchasing a platform or using a SaaS (Software as a Service) model.
This is not a question but … preparation is KEY!
Managing and mitigating operational risks requires preparation at each stage of the event planning process. Consider testing your platform and integrations, training, and rehearsing with your internal teams as well as your speakers, and creating an event flow mapping out the way you envision the program unfolding.
Virtual events quickly established themselves in the events industry due to the current health crisis. However, this will likely not just be a passing fad. Market research suggests that virtual and hybrid events will emerge as "the norm" in our industry. It is therefore essential for any organization to "jump on the bandwagon", educate themselves, and carefully choose their future partners.
Would you like to continue this conversation? Want to dive deeper? Contact us!
References:
Meetings Today. (2012). Virtual Event Definitions. from:
https://www.meetingstoday.com/magazines/article-details/articleid/19191/title/virtual-event-definitions
Wikipedia. (2015). Salon virtuel. from:
https://fr.wikipedia.org/wiki/Salon_virtuel#:~:text=Un%20salon%20virtuel%2C%20%C3%A9galement%20connu,n'aient%20besoin%20de%20se
Article by Sharon Claudel, Project Manager.